For inter-project relation we have functionality to share milestones between projects.
General Information about Cloned Milestone
Clone MS can't be set as a successor
Color of cloned MS will be set as color of original MS
Priority of cloned MS will depend on its successors.
Changes of MS is limited only to changes for the original MS in the original project. No cloned MS can be changed\moved. Multiple MSs selection ("Select MSs to the right" option which appears on hovering over the milestone) is applicable only for original MS excluding cloned.
Moving the original MS, which can cause 'black ranges' in other projects, is allowed.
If Original MS was deleted and recreated later cloned MS will become internal one and no connection between those will be recreated.
Deletion of the original Project with original MS will make all cloned MS as regular one.
Connection points can't be used for sharing.
Auto-calculated MS can't be used for sharing.
Create Cloned Milestone
To share milestone into another project you would need to
select "Create milestone" option from the project menu located to the right from the project name.

Screen #1 – Create Milestone
in drop-down menu select "Clone Milestone" tab and define

Project name from which you would like to peak up a milestone
Milestone's name which you would like to share into your project
Project name where to it will be shared
In addition you can define summary and successor if required but it can be changed later if required.
Please note that shared(cloned) milestone can't have predecessors.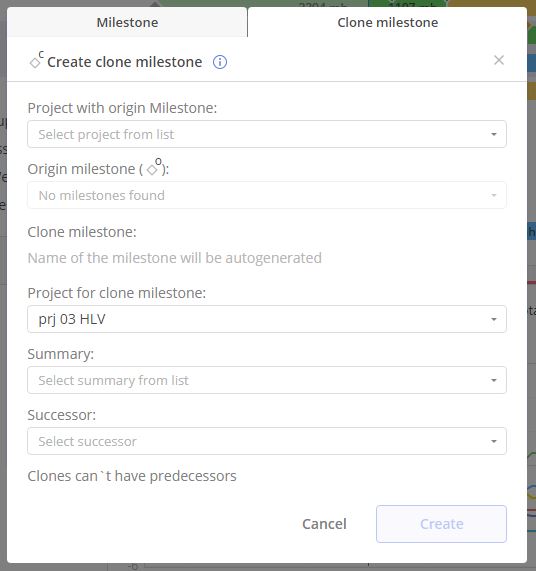 Screen #2 – Clone Milestone
There is no limitation for for amount of cloned milestones created from the original one, so you can share it among all required project as you wish.

Screen #3 – Clone and Original Milestone
To review all cloned milestones from the original can be done by hovering over it. In this case system will highlight all projects where it's used as cloned MS.
Delete Cloned Milestone
Deletion of the cloned milestone can be performed in a similar way to a deletion of any other milestone in the system via Gantt chart. For that just select "Delete" option from the context menu to the right from the milestone name , which appears on left mouse click over the "three dots" icon.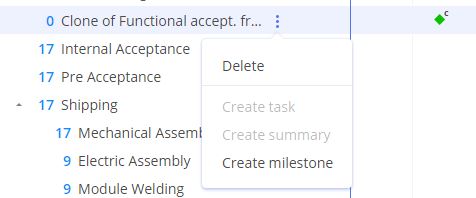 Screen #4 – Delete Clone Milestone
Update Cloned Milestone
Deletion of the cloned milestone can be performed via milestone card. Navigate to the required milestone in the Gantt chart and press left mouse button over the milestone name.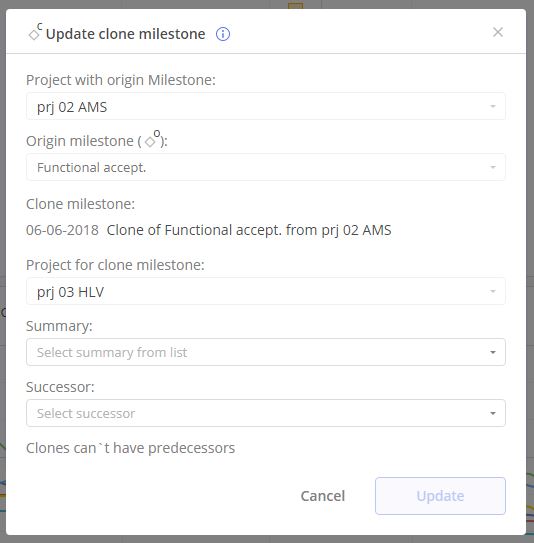 Screen #5 – Update Cloned Milestone
Note that only Successor and summary can be changed for the cloned milestone. All other fields are forbidden for change.
Connect Cloned Milestone
As it was mentioned previously Cloned Milestone can be connected only to Successor.  You can do it either via updating information in the milestone's card or directly at Gantt by creating a Connection Link. 
Detach Cloned Milestone
Any cloned MS can be detached from the original (parent) MS. Such action is irreversible and it won't be possible to make it back as cloned milestone. Only deletion and creation of the new one can be performed.
To detach milestone from the system hover over your mouse cursor over cloned milestone and select "Detach clone milestone" from the appeared menu.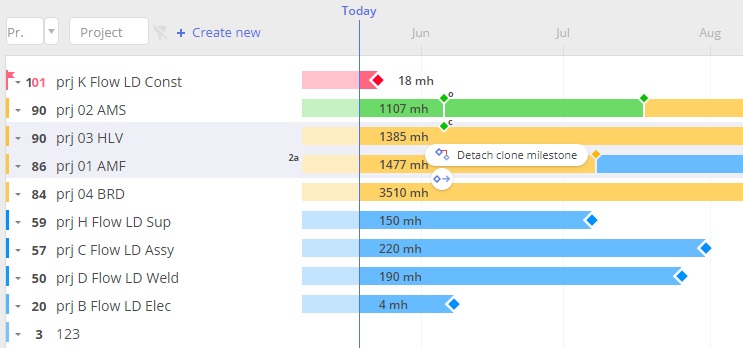 Screen #6 – Detach Cloned Milestone