Leveling is the setting up of task execution sequence depending on their priority and business value. You as a project manager can set a leveling parameter based either on priority or business value. The system will automatically calculate the dates for the tasks and create a corresponding Gantt chart. 
To set up or change project leveling, a user must have corresponding permission.
If you have a 'manage project/pipeline leveling' permission you can run or rerun it in the QE mode.
Note that if a user has 'manage pipeline leveling' permission they can't run or rerun project leveling. 
You can also run a pipeline or project leveling in the Quick Edit mode for a non-leveled project. To this end, open the QE mode for this project and choose a corresponding option in the plan selector drop-down.
Leveling Setting
To set leveling for a project, 
Go to the Quick Edit mode of the project,

Choose the 'Run Leveling' option in the plan selector drop-down.
There you can see the leveling setting menu with the leveling explanation. Also, you'll see the priority-based value slider and the corresponding explanation. 
Click the 'cancel' or 'run' button to skip or apply the changes.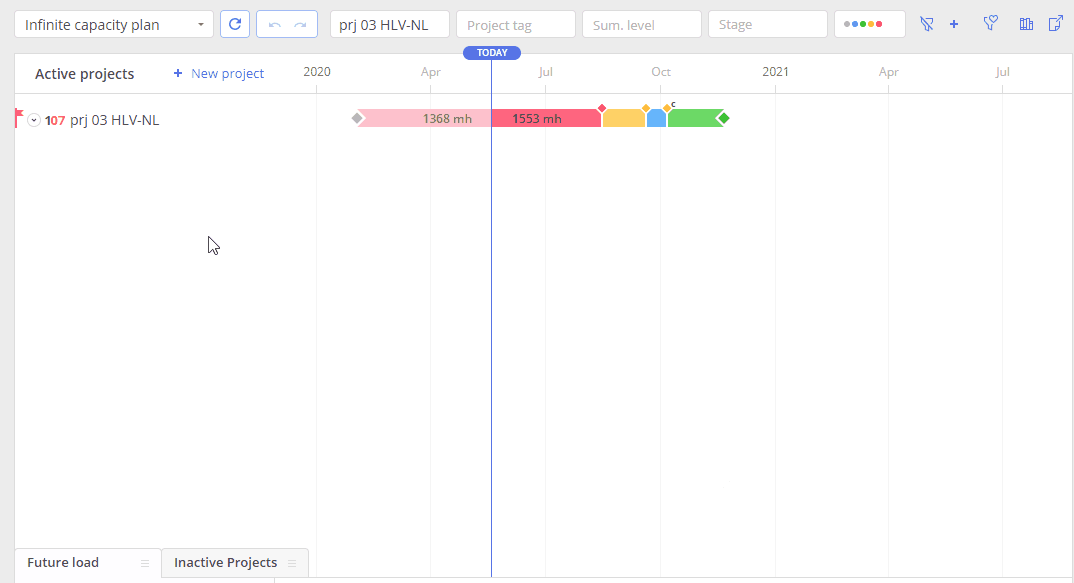 Screen #1 – Leveling Setting
Running Leveling for Projects
To run leveling for a non-leveled active or inactive project, run a single project leveling, and set a priority-based value slider to 'value'.
If an active project is already leveled you can rerun its leveling by changing its value. 
If there are two projects one of which is active and another one is not, when you run Pipeline leveling in the QE mode for an active one, it gets Pipeline leveling as distinct from the inactive project. Note that you can't run Pipeline leveling in the QE mode for an inactive project. 
Leveling Delay
Leveling delay is the difference between the time when a task gets ready to start and the time it was leveled to be initiated.