"Planning view customization" mode has been designed to help Project Managers analyze and identify approaches for accomplishing milestones (MS) in a faster way.
Overall Overview
There are two types of Planning View:
Manual Plan – provides possibility of item re-positioning in the timeline and extending or collapsing its duration  according to requirements.
and
Auto Plan – provides automatically calculated positioning and duration of tasks.
To switch between these modes you should go to the Quick Data Editing page for the project and select a necessary option from the drop-down.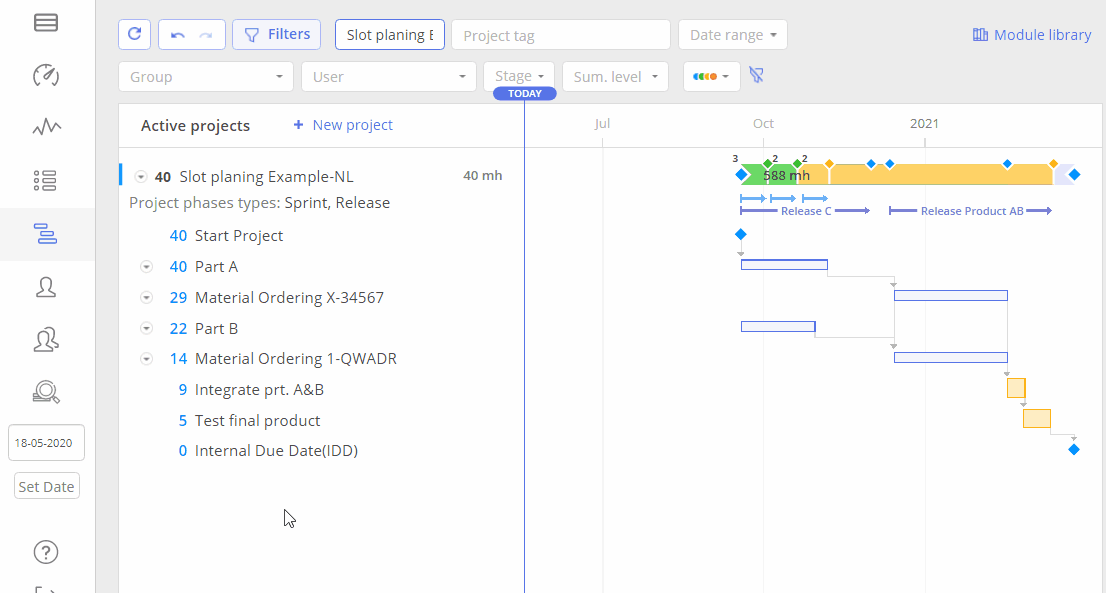 Screen #1 – Planning Mode – mode selection
Since "Auto Plan" is default and described in a separate topic, only "Manual Plan" is considered below.
Elements Re-Positioning
To plan the order of the Tasks and Summaries execution, Project Manager(PM) can use an item re-positioning option from the "Manual Plan" mode view by drag-and-drop directly from the Gantt chart.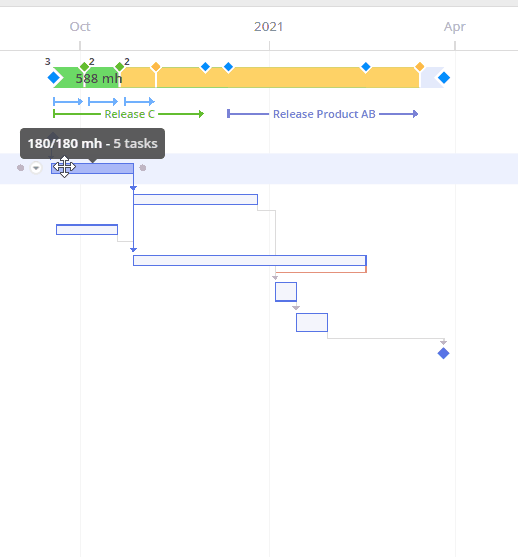 Screen #2 – Planning Mode – Task re-positioning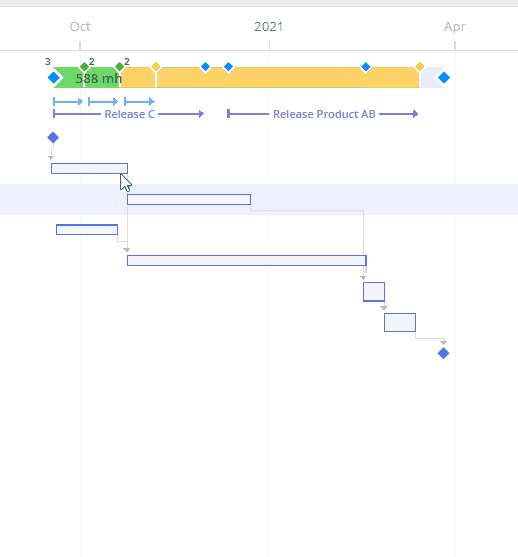 Screen #3 – Planning Mode – Summary re-positioning
Remember that any Summary or Task position changes will affect all chain of successors but keep predecessors untouched.
If Summary contains a milestone, the re-positioning action will limit one of Summary boundaries.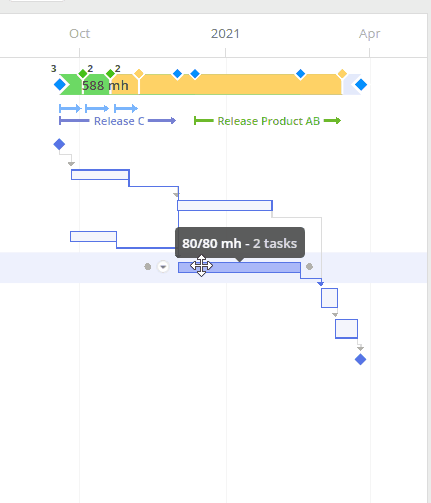 Screen #4 – Planning Mode – Summary re-positioning with MS
For all such actions like this, the order of Summaries' sub-items remains unchanged.
To reset position of the item to initial, you should select context menu option "Reset to Auto plan".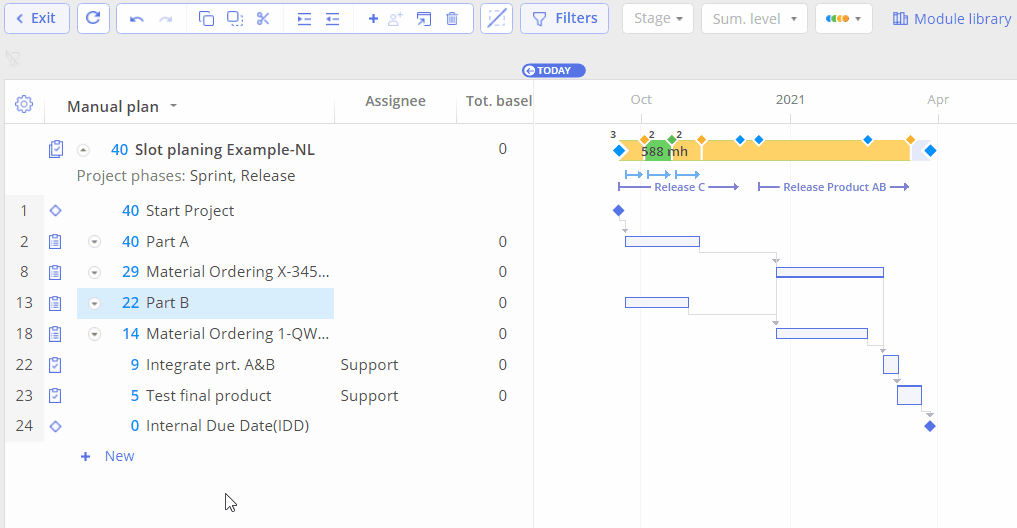 Screen #5 – Planning Mode – Position Reset
Please note that position reset will be done only for selected item.
Duration Change
One of the crucial parameters at planning is Task's duration. It can be adjusted only in the "Manual plan" mode view.
You can extend or decrease the task's duration by using  a special separator located to the right from the task at Gantt chart. Please, note that this element appears only for tasks. The Summary duration can be adjusted only by changing its sub-items' positions.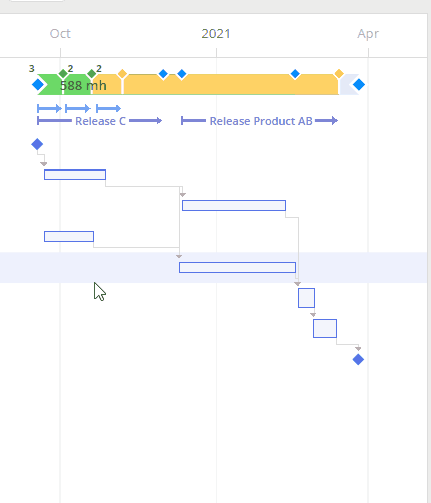 Screen #6 – Planning Mode – Task duration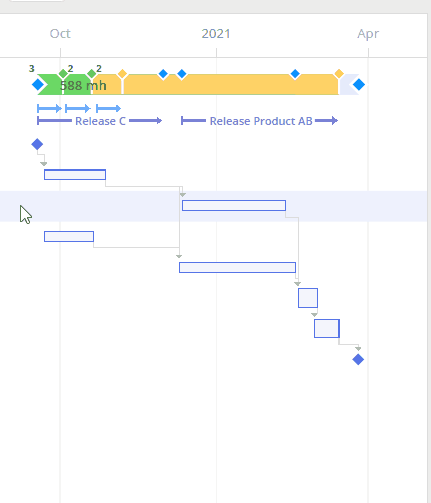 Screen #7 – Planning Mode – Summary duration change
Keep in mind that initial estimations aren't changed as a result of this action.
Plans' Comparison
To compare "Manual Plan" vs "Auto plan" use special button located at the top of the screen. Its activation makes the system displays items positioning for the another planning type.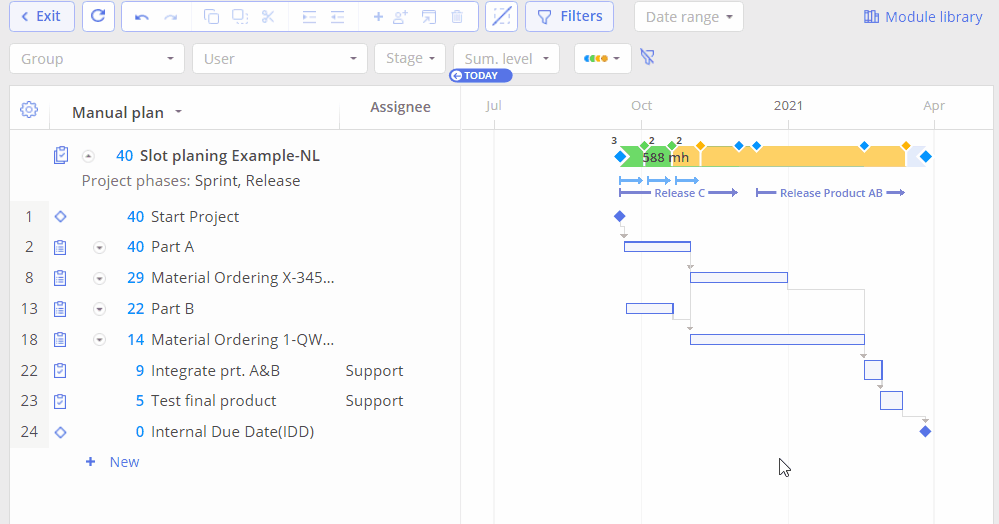 Screen #8 – Planning Mode – Plans Comparison