Summary Card is a feature of Epicflow that similar to Task Card brings all information on the Summary in structured way to grant you simplest and easiest way in editing and control of all related to the task information and parameters.
Summary Card Elements
This part will contain general description of elements and actions which can be performed at Task Card page.
For open Summary Card go to the

Pipeline and press left mouse button on any Summary task from the Gantt Chart to have it opened.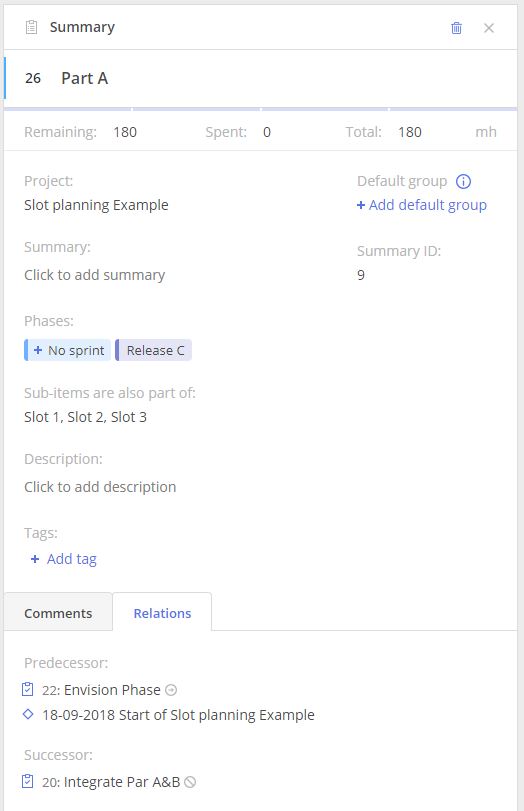 Screen #1 – Summary Card
Also Summary Card can be opened from Task Card by selecting field Summary. If you'll use such redirection method in the top left corner of the Summary Card will be displayed a link to the previous task from which such redirection was performed. That can be used for easier and convenient navigation among project structure.
To the right from Summary's Priority we have Summary name, which you can easily edit and adapt to your needs and "Delete" with "Cross" icons at the right top corner.
"Delete" icon can be used to erase permanently Summary. On such action all connections with Successors and Predecessors will be removed as well. Please note that it cannot be used while summary contains any items.
"Cross" icon will close the Summary Card.
Next element is Progress Bar, which indicates Total percent of all sub-items accomplishment.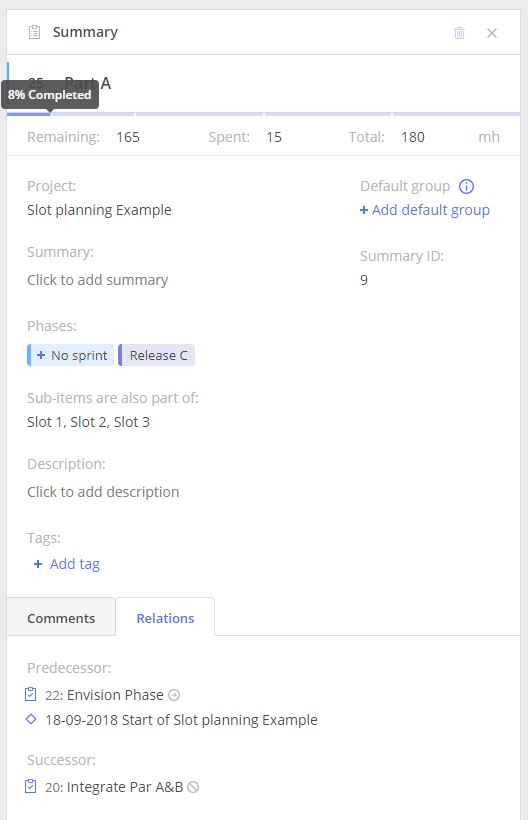 Screen #2 – Summary Card – Progress Bar
Right bellow it we have Project name, Summary, Phases, Description, Tags and the closest upcoming Milestones for the Chain where we have the task.
Separate elements are:
Default Group– list of default groups which will be automatically applied to all tasks for which no groups from external system was defined. In general cases, when resource is defined without a group task will be assigned on a group, from defined list at summary level, for which it has the highest capacity.
For additional information over the topic please refer to bellow section "Default Group Identification".
Summary ID – ID of the task
and
Last but not the least part is Relations tab with information on Predecessors and Successorslinked to the task.
Default Group Identification
Such functionality was added a specially for the cases when we can have a task without defined resource or group in result of import from external system. By setting up default group(s) at Summary card level it be automatically applied to all such tasks.
Next rules can be applied on such action:
If groups are specified for the summary or summary of summary – the highest capacity group for the assigned resource in the task will be selected automatically.
If there is no highest capacity or no resource assigned and for the summary or summary of summary, we have one group specified – it will be selected automatically for the task assignment.
If there is no highest capacity or no resource assigned and for the summary or summary of summary, we have several groups specified – no group will be selected automatically.
If multigroup is specified and no resource is assigned – multigroup will be selected automatically
If multigroup and resource is specified – system will use the group with highest capacity for user from multigroup
Adding Second Default Group
For the second group adding to the summary you will need to:
Open Summary Card
Press "plus" sign located right above Default groups list and in newly appeared frame "New default group" select one which is required.
Shrinking assigned Groups
For the case when you would like to shrink resources assigned for the summary you need to:
Open Summary Card
Hover over the required assignee your mouse cursor
In appeared frame press "trash" icon to remove such resource from Assignments list
Close Summary
Once all the Total Remaining hours for all sub-items of the summary have been spent, than it will be treated by the system as a completed one.
There is no way to close all sub-items via Summary card or change any value for Remaining, Spent or Total estimation from it. Editing is allowed only at task level.
Comments
Comments is an additional functionality for sharing crucial information directly in Epicflow among all concerned people. It works in a similar way as we have it for Task Card.
With appropriate set of rights each user can add, remove or edit comment but only personal comments can be removed or edited.
If you would like to add new line during typing shift-enter combination can be used for that. Pressing enter button will add comment to the task itself.
Among all comments user can define an important one by lighting up star icon which appears to the right from the comment on hovering over such.
In a similar way, hovering mouse cursor over the task, you can select option "edit" or "delete" the task itself.
Selecting toggle "Only important " will hide all not-important comments.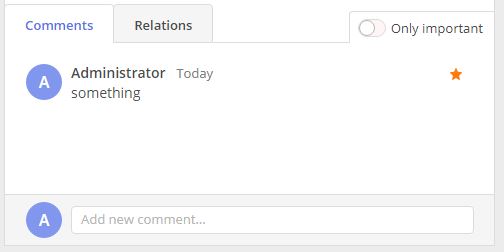 Screen #3 – Summary Card – Comments
Please note that NO comments to the summary will be shown in the "Comments" section of the "Task List" page. For the current version of Task List section is designed to be focused only over tasks' comments.