One of Project Management and Configuration instruments, from the prospective of high level, is Project Card.
Be aware that appropriate set of rights is required to work with such. For additional information please refer to the "Administration" section of the wiki page.
Project card
Project Card is functionality which is designed for holistic representation of crucial Project's data and additional configuration of the Project itself such as the name of the Project, start date, due date, approved budget, remaining work, total expected work, and remaining budget.
In order to open the Project Card you need to click over the Project's name.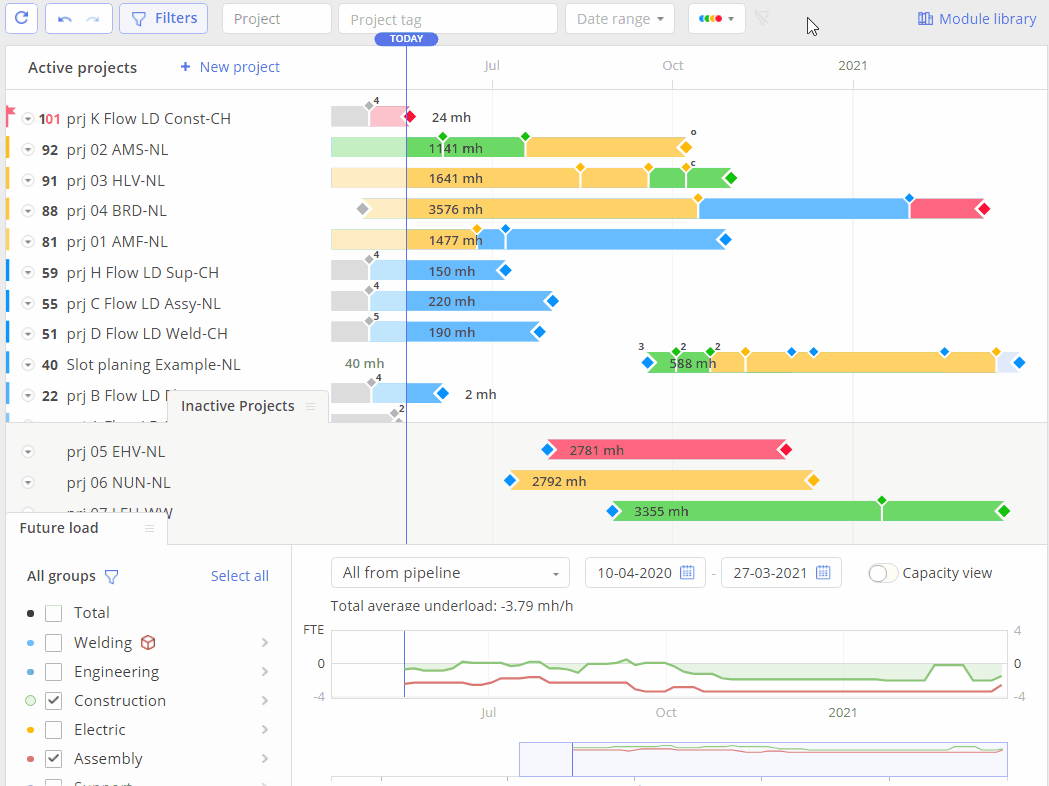 Screen #1– Opening Project's data
By default only general information will be displayed. Project Card should be used to verify that all required initial information is added to the project or for such editing. For example if you forgot to add budget information you won't be able to use "Burnup" and "Dashboard" instruments of the system for deeper analysis and control of the Project Flow.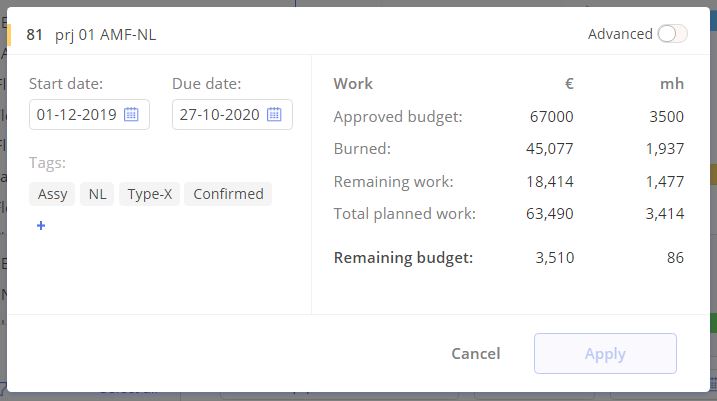 Screen #2– Project Card
To

change Start\End Project date

use date-picker(s) located at the top part of the window.
To review more detailed information on Project and perform additional configuration of such, switch toggle "Advanced", located at the top right corner of the Window and select appropriate tab. It will open you two additional options:
and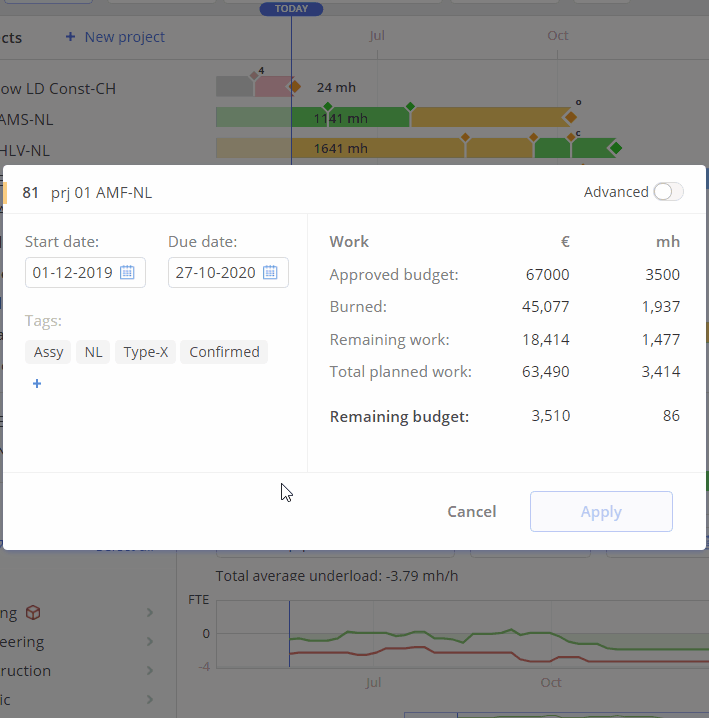 Screen #3 – Project Card – Budget Settings
Budget Settings
This section is used for budget configuration. To enable such select checkbox "Enable budget processing". In parallel must be specified identifier for the budget tasks and mark text, used for such.
Info tab
Contains only general information on budget such as "Scheduled", "Budgeted" fields and dates when the project was "Imported" or "Added to the pipeline".
"Scheduled" – amount of planned work.
"Budgeted" – amount of work with allocated budget for such.
"Imported" – date when project was imported into the system.
"Added to the pipeline" – date when project was added to the pipeline.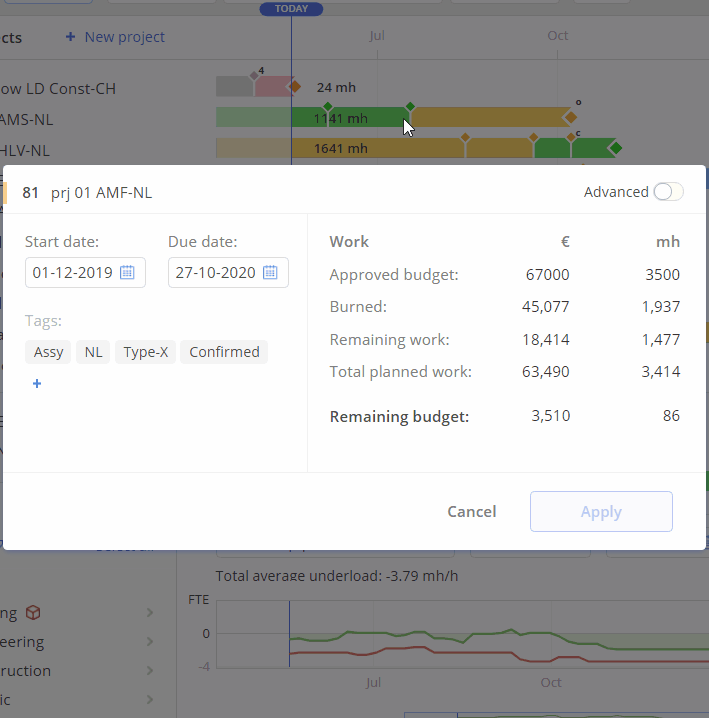 Screen #4 – Project Card – Info Tab
Add new Project
You can create internal projects in Epicflow and add to your project portfolio. Such project will exist in Epicflow and wont be connected to any external system.
To create a New Project Go to the Pipeline and choose "Create project"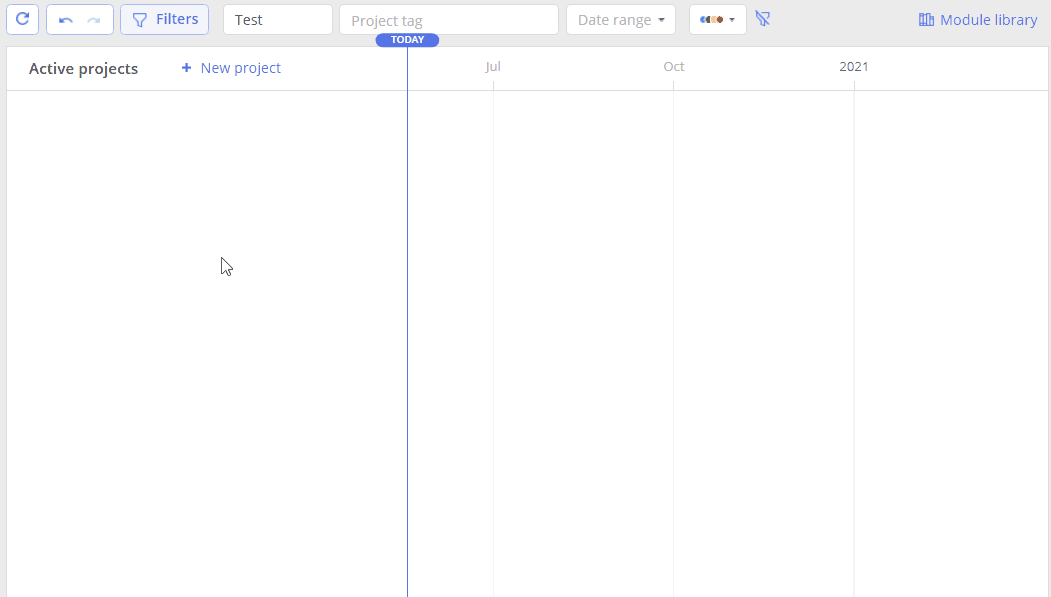 Screen #5 – Create a project through "Pipeline"
Give the name to the project, set up start and finish date.
On selection checkbox "Create first task" right after project creation you'll be promted to proceed with tasks creation for it.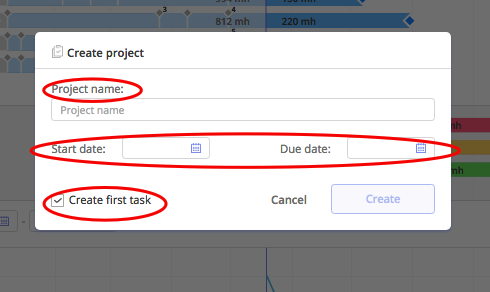 Screen #6 – Project creation window
Give the name to the task, choose the connected Project from dropdown once you have more than 1 internal Project, assign&add assignee, set dependency once you have more than 1 task.
Checkbox for creating the next task is activated automatically but you can deselect it.
Then press Create.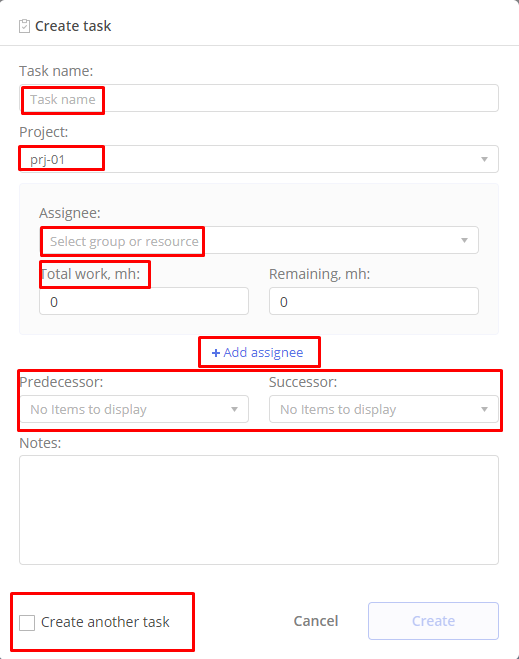 Screen #7 – First task
Once you are done with creating the tasks your Project will be shown on the Pipeline. Go to the Project card and fill out the additional information.
Pause Project
For the case when Project need to be paused and all work on it must be stopped you need to transfer the Project into "Inactive Projects" area.
To transfer Project(s) to the "Inactive Projects" area select such by left clicking on their names and use drag and drop functionality to transfer them to "Inactive Projects" area.
Resume Project
As soon as you would like to continue with previously Paused Project and resume all work on such you would need to to transfer it back into "Active Projects" area.
To add Inactive Project to the "Active Projects" area select such by left clicking on their names and use drag and drop functionality to transfer them to "Active Projects" area.
Delete Project
All finished or canceled Projects soon or later must be deleted from the system.
To delete Project from the system you'll need to
transfer Project to the "Inactive Projects" area

hover over the cursor over the project name

press on appeared "Delete Project" button.

Confirm required action
Filter parameters
For more convenient approach and keeping focus over important projects set of different filters is provided at Pipeline page.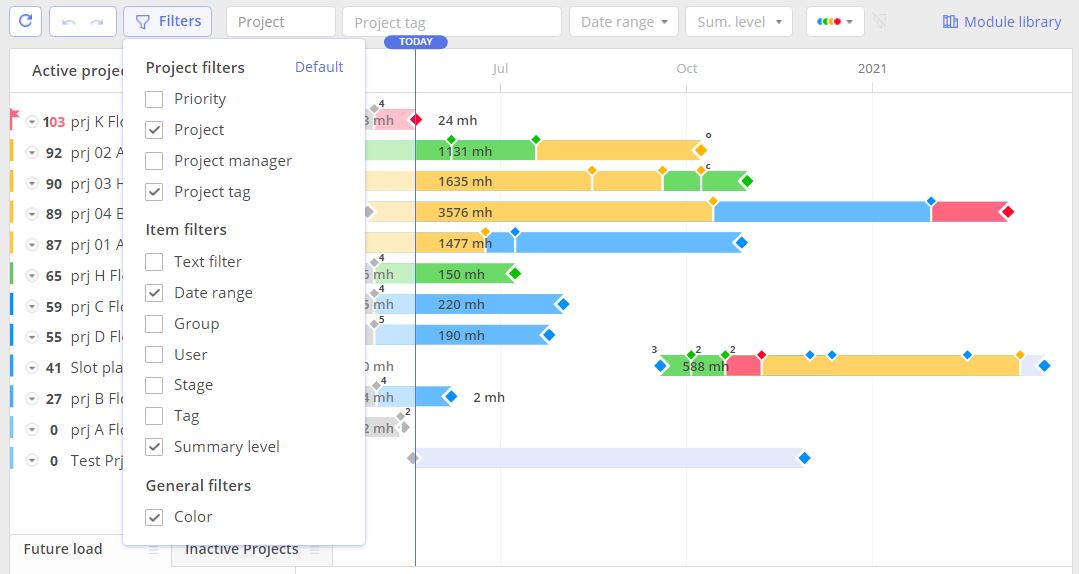 Screen #8 – Pipeline – Filters list
List of visible filters is configurable per each user. Nevertheless, in case of need you can revert it back to default configuration by selection of Default option in the "Filters" list.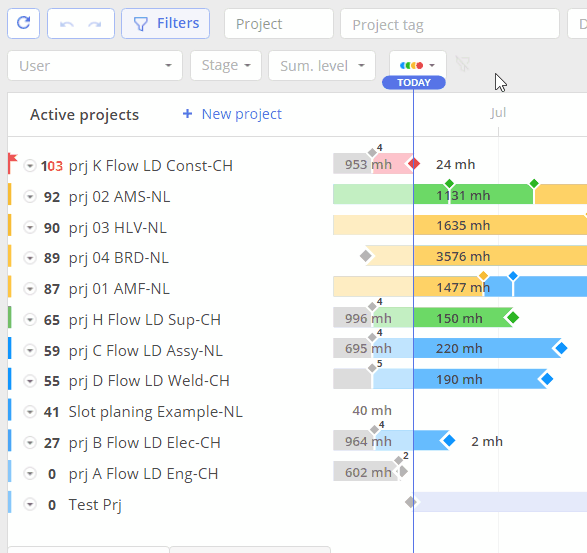 Screen #9– Pipeline – Filters list configuration
The whole list for filtering is divided in several groups:
Project filters – items which allows apply different parameters to filter out projects themselves
Item filters – for filtering items at the Gantt chart
Color – for filtering segments with different priorities.
Project filters:
Priority – can be applied with one of next conditions to filter out projects by priority

Equal
Less than or equal
Greater than or equal
Project – at typing of required project's name system provides list of all which corresponds to the search criteria with ability to select an appropriate one from the appeared list
Project Manager – parameter from the Project card which is set at project creation or import and defines the creator\manager of the project. For internal projects that parameter is defined as name of user who has it created. For MS projects it can be reconfigured in MS Project file's itself.
Project tag – as instrument of projects grouping you can use Project tag parameter, an item from the Project Card. As an example of its application you can use it to define regions or Confirmed\Paused projects, or Projects from the specific technology area.
Item filters
Text filter – applies filtering among the list of Tasks, Summaries and Milestones
Date range – filtering out all visible items at Gantt chart by three parameters:

Show all
Selected by date range – only those tasks which are in the scope of defined date range will be displayed. Date range is defined by the range from the "Future Load" frame displayed at the bottom of the screen.
Last 14 days plus future – only tasks which falls into the date range starting 14 calendars days before today are going to be displayed.

Group – filtering out items at Gantt chart by assigned Resource Groups.
User – filtering out items at Gantt chart by assigned Resources.
Stage – defines filter parameter based over the Tasks' stage
Tag – In a similar way to Project tags this tag is applicable for the tasks themselves. It can be set from the Task Card.
Summary level – it expands and collapse summaries of corresponding levels at the Gantt chart of selected projects
General filters
Color – it filters Projects and items the Gantt chart of such by selected range color. Note that in addition to selected color all higher constraint colors are going to be displayed as well.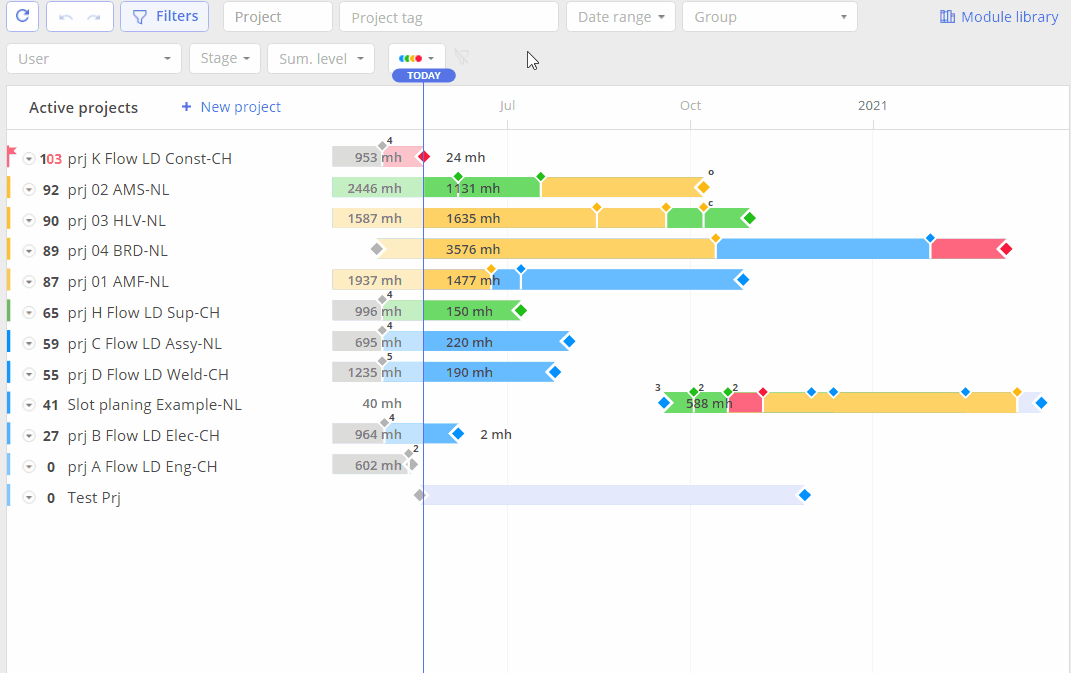 Screen #10– Pipeline – Filters apply example
Undo\Redo and Refresh
By default you can revert 3 last performed changes at Pipeline page. Please note that Deletion of the Project is irreversible.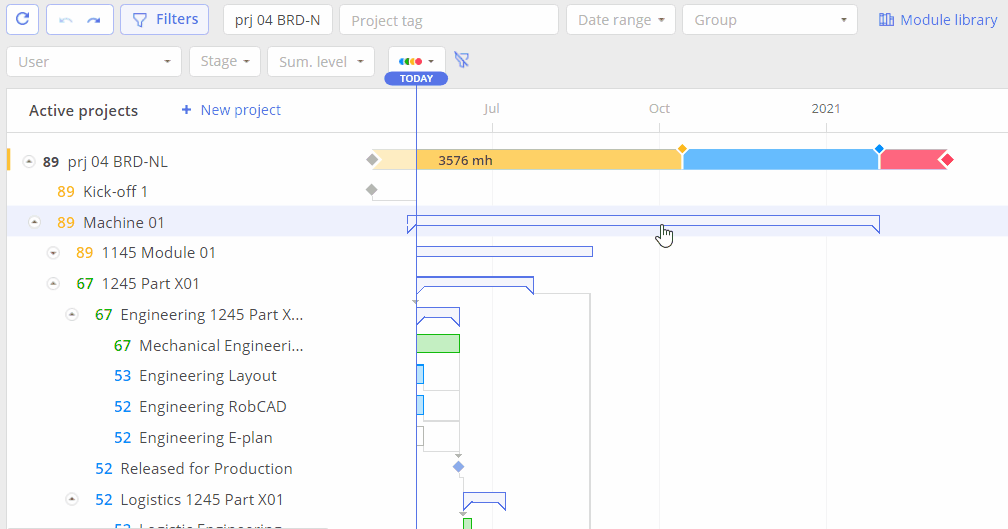 Screen #11– Pipeline – Undo\Redo
Another useful option is "Refresh and reorder by priority". It allows to perform automatic reordering of the Project's items at Gantt chart a specially at new items creation or links adjustment.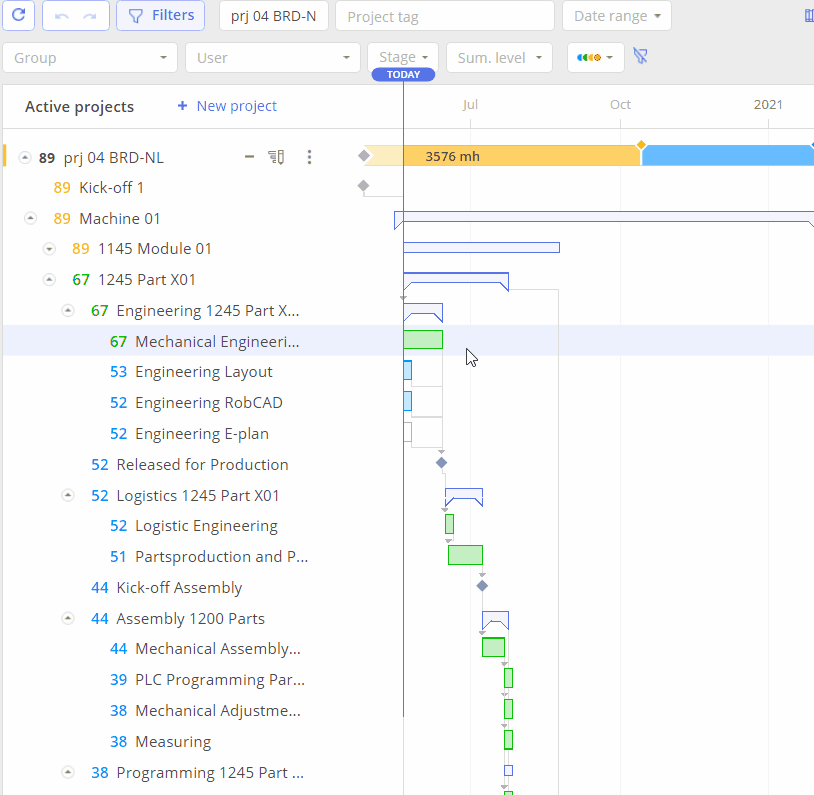 Screen #12– Pipeline – Refresh and reorder by priority