Task Card Is a feature of Epicflow that grants higher level of convenience for your team in work with one particular task.
It brings all information on the task in structured way to grant you simplest and easiest way in editing and control of all related to the task information and parameters.
Task Card Overview
This part will contain general description of elements and actions which can be performed at Task Card page.
For open Task Card go to the

Task List and press left mouse button on any task name in the Task column to have it opened
Pipeline and press left mouse button on any task from the Gantt Chart to have it opened.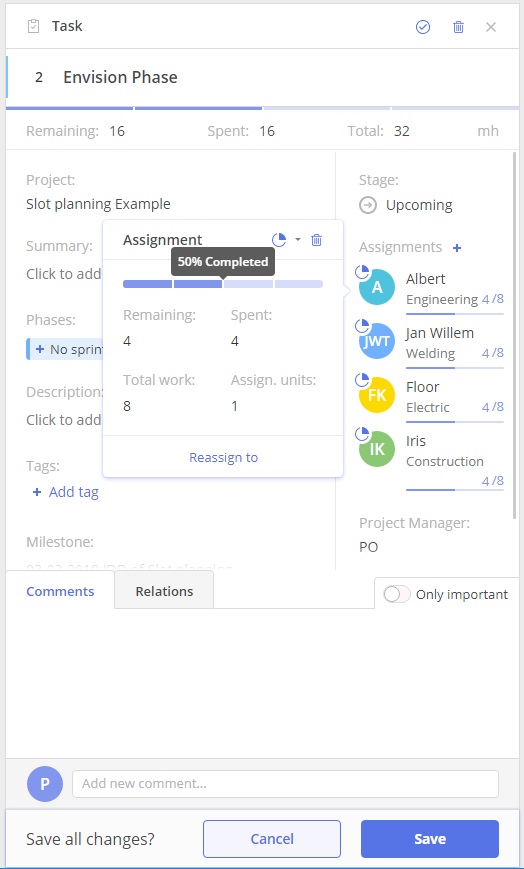 Screen #1 – Task Card
In the left top corner we have Priority of the task. Hovering over your mouse cursor will trigger popup message depiction with the Chain of tasks which contributes to the Task's priority itself.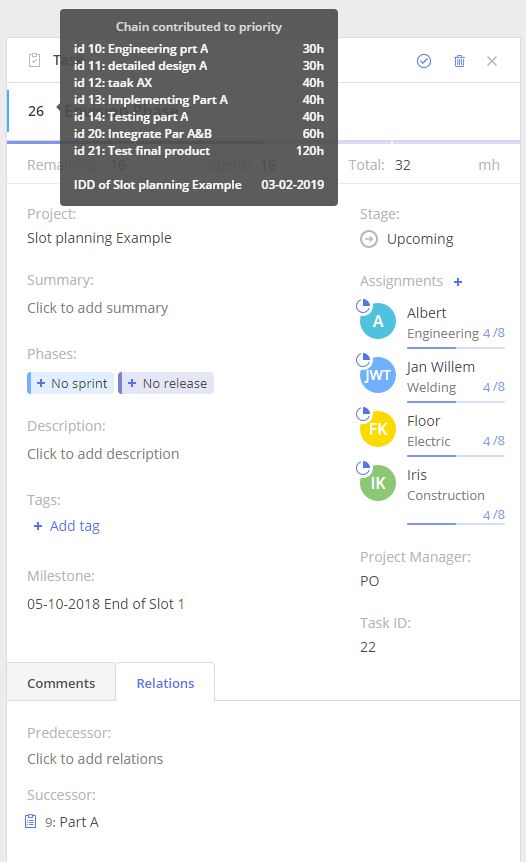 Screen #2 – Task Card – Priority
To the right from Task's Priority we have task name, which you can easily edit and adapt to your needs and "Complete", "Delete" with "Cross" icons at the right top corner.
"Complete" icon will set Remaining to "0" for all assignments in it and as result for the task itself.
"Delete" icon will erase task permanently from the system on user confirmation.
"Cross" icon will close the Task Card.
Next element is Progress Bar, which indicates Total percent of task's accomplishment.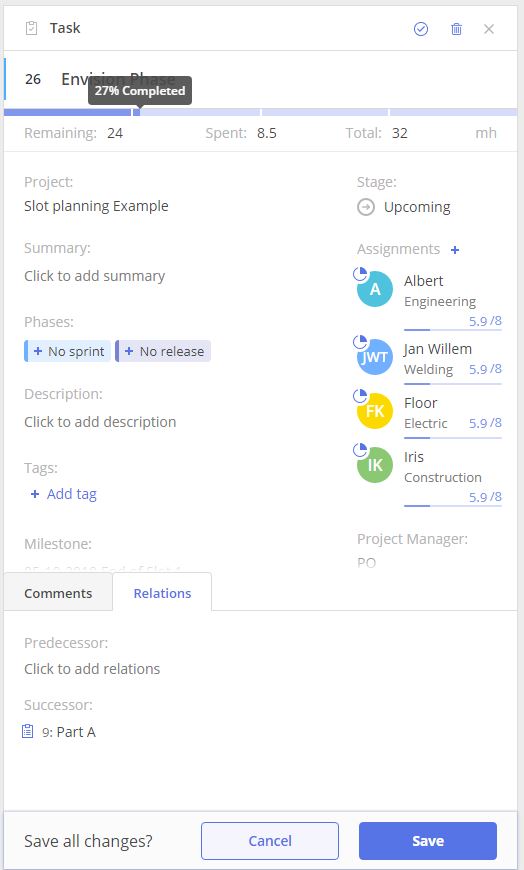 Screen #3 – Task Card – Progress Bar
Right bellow it we have Project name, Summary, Phases, Description, Tags and the closest upcoming Milestones for the Chain where we have the task.
Separate elements are:
Stage – identifies whether the tasks are completed, not estimated, upcoming, not ready to start, or blocked
Assignments – list of groups or resources assigned to the task's accomplishment with identification of the current sub-task status ("Not in progress", "In progress", "On hold") and Progress of accomplishment.
Project Manager – with the name of Project Manager responsible for the Project fulfillment process and control
Task ID – ID of the task
and
Last but not the least part is Relations tab with information on Predecessors and Successors linked to the task.
Tasks Management
Task Status
Status of the task can be measured with next three options:
"Not in progress" – nobody is working on the task yet
"In progress" – task accomplishment is under the process
"On hold" – task was set on pause
In case if engineer or PM register progress on task status will be automatically changed to "In progress".
Also status "Not in progress" is available for selection even after the status was changed to any other.
Task status for a specific assignee can be changed either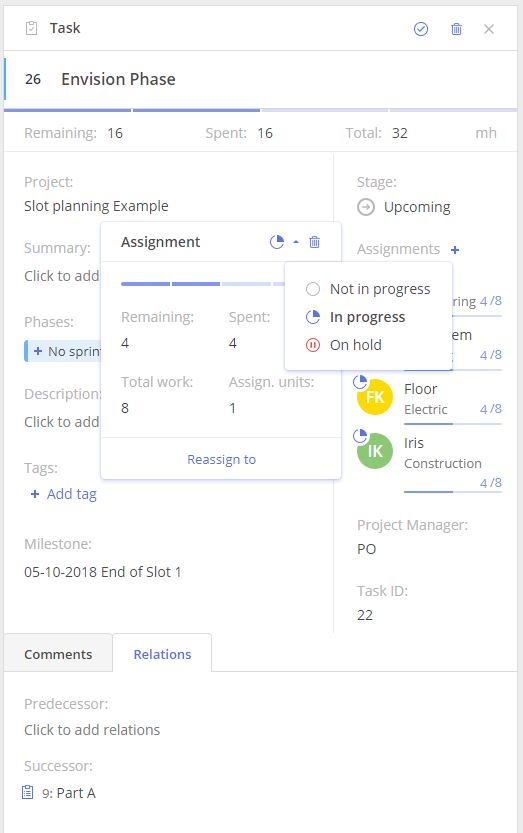 Screen #4 – Task Card – Assignment task Status change
or
directly from Task List view

Screen #5 – Task List – Assignment task Status change
Define Estimates
Once all the resources have been added and tasks are specified, the hours can be applied against the them right in Epicflow UI. These need to be added one at a time. 
Open Task Card for the required task
Point over your mouse cursor over the required Resource
and
left click over one of the

"Total"\"Spent"\"Remaining" cells to start editing of such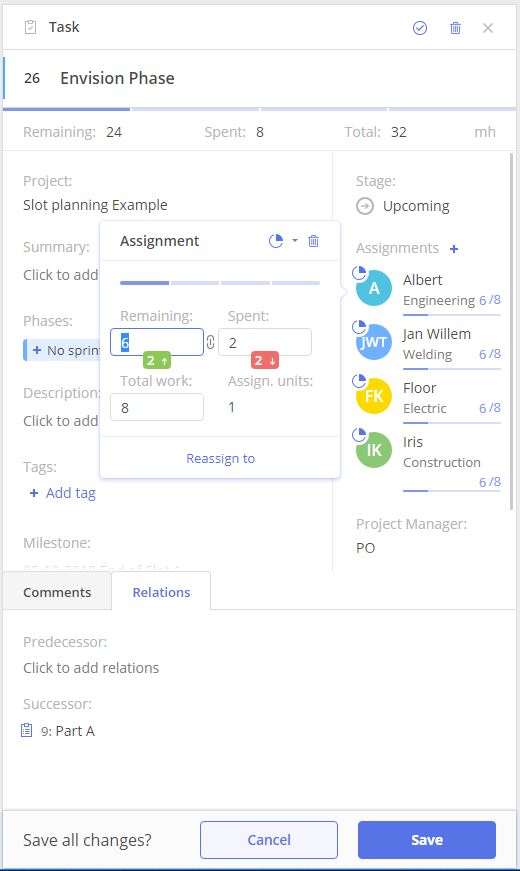 Screen #6 – Task Card – Estimates Editing
Difference between Spent, Remaining, Total
Each task is characterized by estimation of a time which is remaining for its fulfillment, already spent and total sum of such. It's an essential part of the system and update of those values helps with project's flow, impediments identification and priorities order.
Remaining is the number of man hours left to accomplish the task. You can modify this number, but please note that it will change the number of Spent man hours or Total.
Spent is the number of man hours that a resource has already burned to accomplish the task. If you increase the number of spent hours, Remaining hours will get reduced accordingly.
Total is the sum of Remaining and Spent man hours.
Define Constraints
To design or optimize your personal weekly schedule you need to keep focus over the tasks' prioritization. One of instruments is to set Start or Finish date for the task.
Please note that Project puts constraints on the tasks that force them to start or end on defined date, omitting other the schedule changes.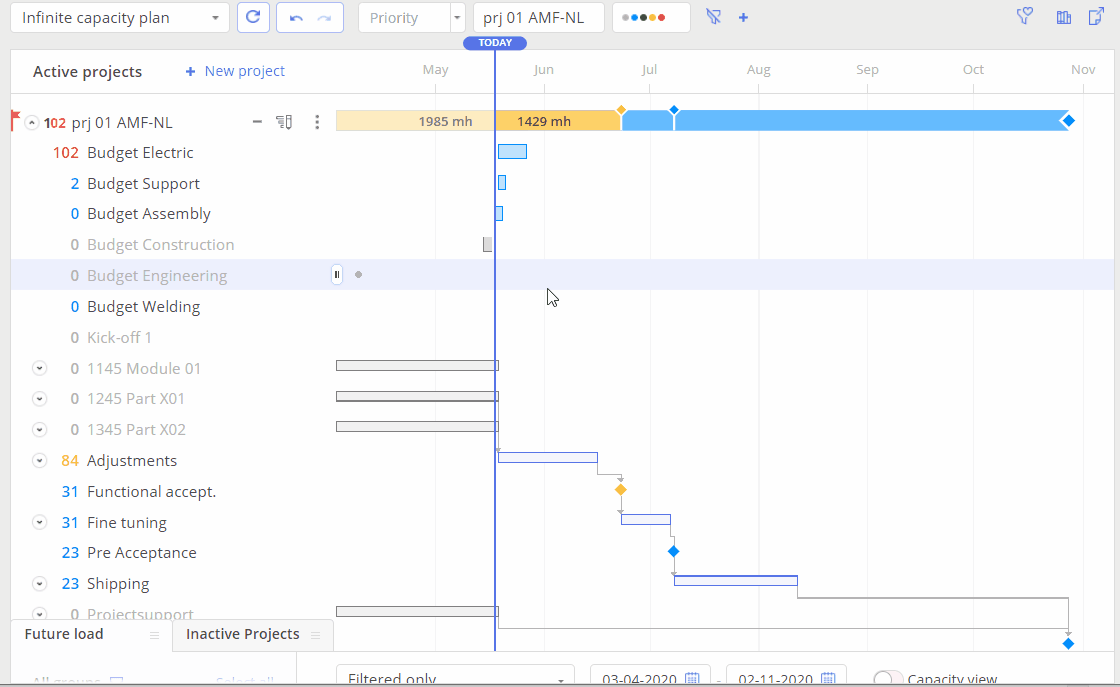 Screen #7 – Task Card – Task Constraints
Upload Progress
Progress on task accomplishment is measured in decreasing of Remained hours estimation. To update the Task Progress you would need to change value of Remaining hours.
Open Task Card for the required task
Point over your mouse cursor over the required Resource
and
left click over one of the

"Total"\"Spent"\"Remaining" cells to start editing of such 
Also for such purpose you can use Progress bar element itself by dragging point of the progress and setting up required % of task Accomplishment.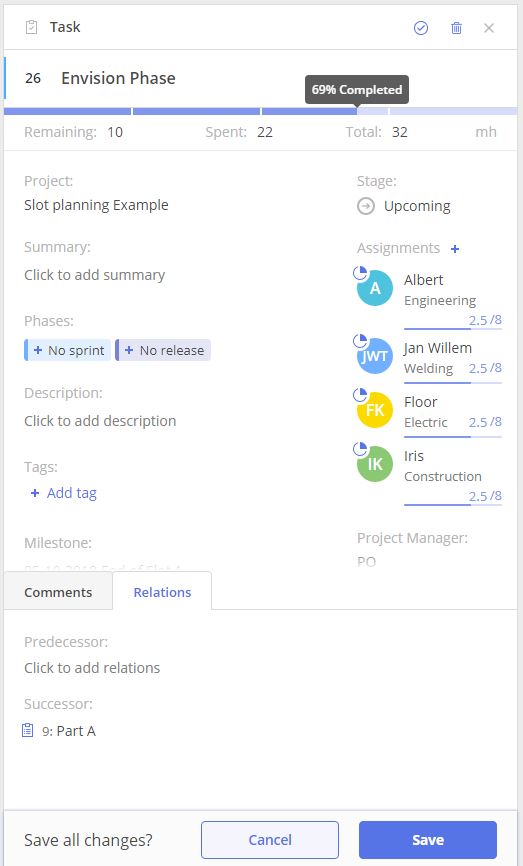 Screen #8 – Task Card – Progress on Task
Automatic Progress Upload
There several approaches to set task for automatic progress indication.
Either you can use UCLT groups or Auto depletions for assignment.
Please refer to those which suits more to your needs.
Close\Complete the Task
Once all the Total Remaining hours have been spent, the task will be shown as a completed one.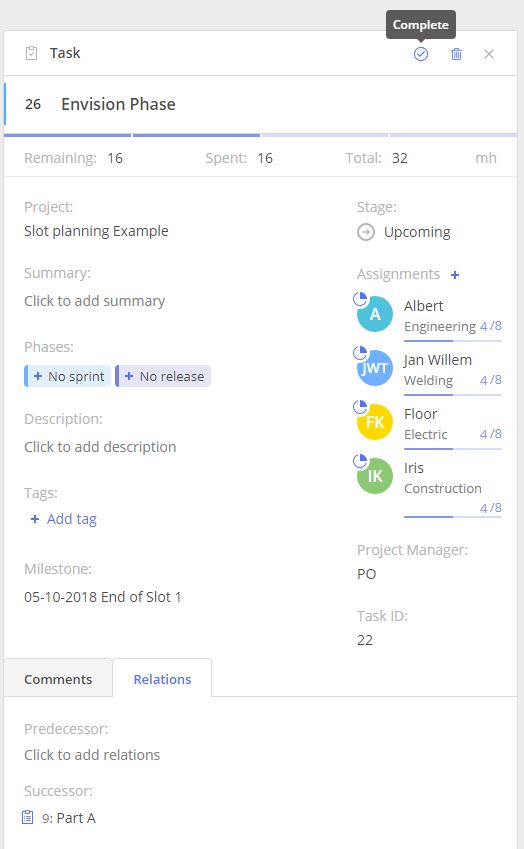 Screen #9 – Task Card – Complete the Task Button
To work with the task completion functionality from the Task Card, do the following actions:
Open user's task card
Click on the 'complete' icon
The assignment completion pop-up will appear.
The menu and available options are similar to those in Timesheet.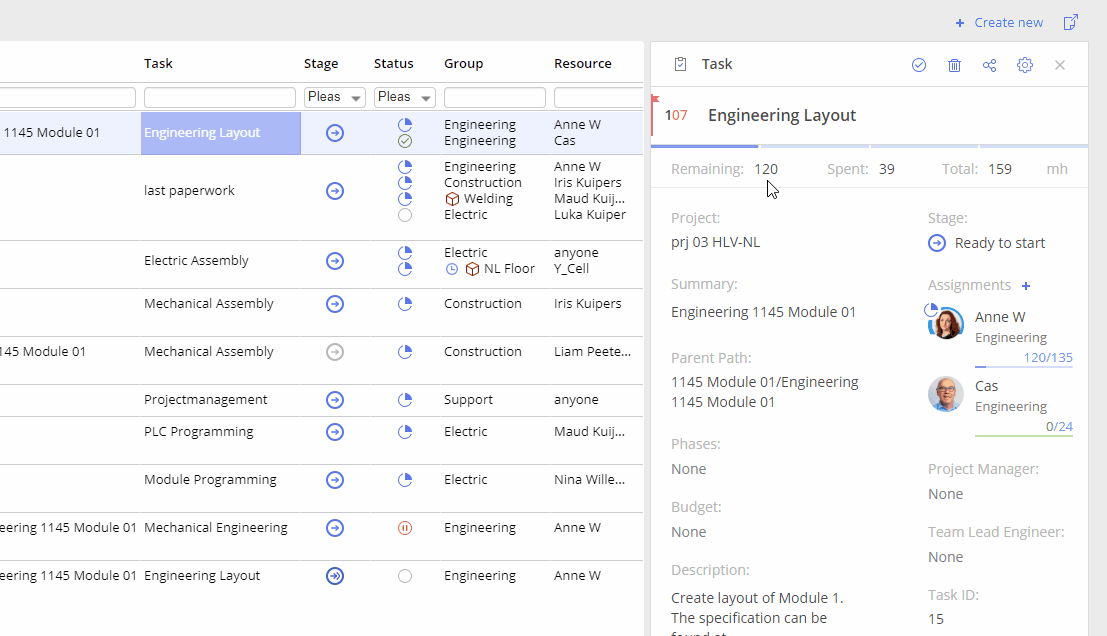 Screen #10 – Task Card – Complete the Task Menu
Task Completion with Two Users Assigned to the Task
If there are two users assigned to the task, apart from other available options, you'll also see the following information about both users:
User picture, his or her name and group to the left of the pop-up,
Calendar
Unallocated hours for the user.
Screen #9 – Task Card – Complete the Task
You also can use Progress bar element by dragging the pointer of your progress to 100% and setting up task Accomplishment in such way.
For JIRA and CSV integration in case of the task transfer to the "Done" state Epicflow automatically set Remaining hours to 0.
Assignments management
Edit Assignee
To change assigned Group/Resource for the task in the Task Card hover over your mouse cursor over the Assignment engineer and in newly appeared frame select "Reassign to" link. Select an appropriate Group/Resource name from the appeared list.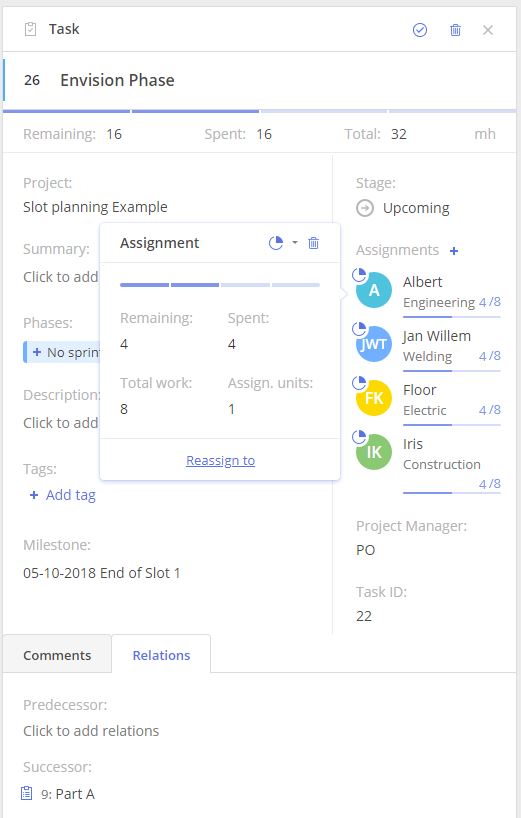 Screen #11a. – Task Card – Resource Assignment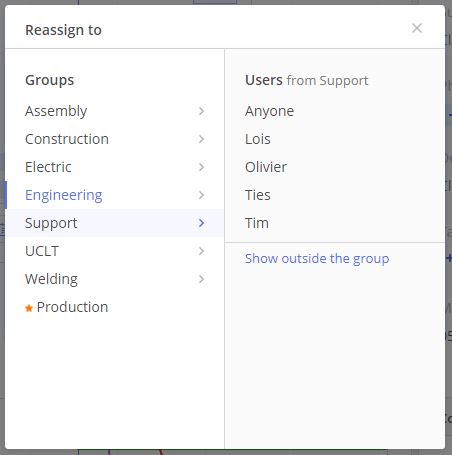 Screen #11b. – Task Card – Resource Assignment
Esc" or left button click anywhere at the page will cancel the change Resource action.
Instead of any particular Resource assignment user can select "anyone" option from the appeared drop-down. It does mean that anybody from the specified Resource Group, who is available, is defined to carry our the task.
Add Second Assignee
For the second resource adding to the task you will need to:
Open Task Card
Press "plus" sign located right above Assignments list and in newly appeared frame select:

Group or user as Assignee
specify Total work
specify Assignments units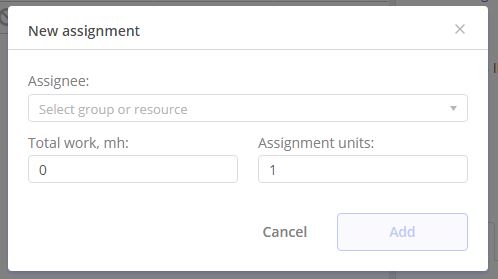 Screen #12 – Task Card – New Assignment
Remove Assignee
For the case when you would like to shrink resources assigned for the task you need to:
Open Task Card
Hover over the required assignee your mouse cursor
In appeared frame press "trash" icon to remove such resource from Assignments list
In case if you do have only one assignee in the task you wont be able to delete such.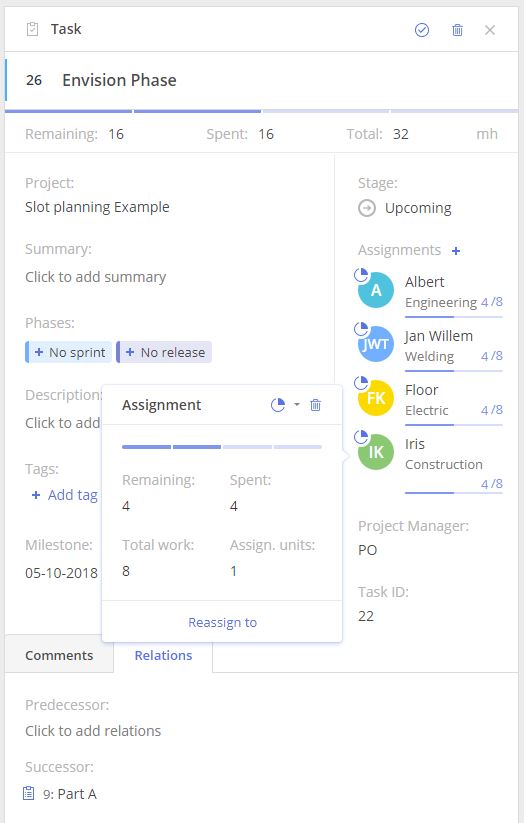 Screen #13a.– Task Card – Task Assignment
Please note, that in case if Assignee has reported progress, record won't be deleted. Instead, it will colored in grey and kept without further possibility for editing.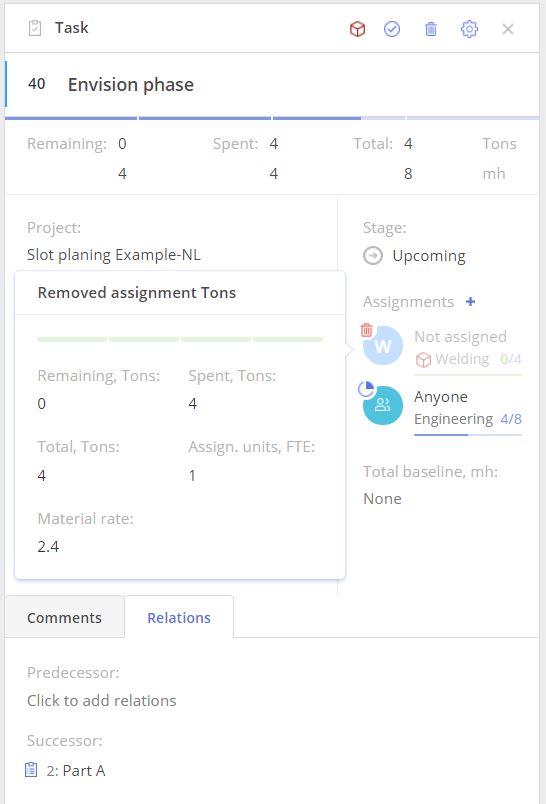 Screen #13b. – Task Card – Task Assignment
Cross-Group Assignment
Sometimes situations arise when the resource from another group possesses the necessary skills to perform a task. At the same time, the task is assigned to a specific group but nobody from the group can be used to accomplish the task due to overload or capacity issues. Also reassignment on another group is not appreciated.
The way out of this situation is "cross-group assignment". It's mechanism which allows you to assign a resource from the different group than specified for task accomplishment.
Suppose that the resource "Admin" has the skills to perform the task set in front of the "BE" group but he is not a part of that group. Also resources of "BE" group are not in position to work that task and to work it out we are going to involve "Admin" and for that we are going to reassign it on it.
When you go to the Task Card and left click on any Assignment in a new frame will appear where you will see a list of available resources for assignment with the primary assigned group at the top of the list.
We are interested in the resource "Admin". By selecting it, we see that it is now indicated in the task card. However, the execution group is still considered "BE."
Note that with such approach the Load created by this task will be evenly distributed among all groups in which the "Admin" resource is allocated and excluded from BE group.
Auto depletions for assignments
This functionality is developed to plan tasks that are automatically depreciated similar to UCLT tasks. For example, that can be a task for a resource which is hired by a customer on time basis, or when you would like to indicate a task of your resources relocation to the customer side. For such tasks automatic hours reporting can be used.
To switch on this functionality for a separate assignment
Open Task Card
Hover over the required assignee your mouse cursor
In appeared frame press "Auto depletion" icon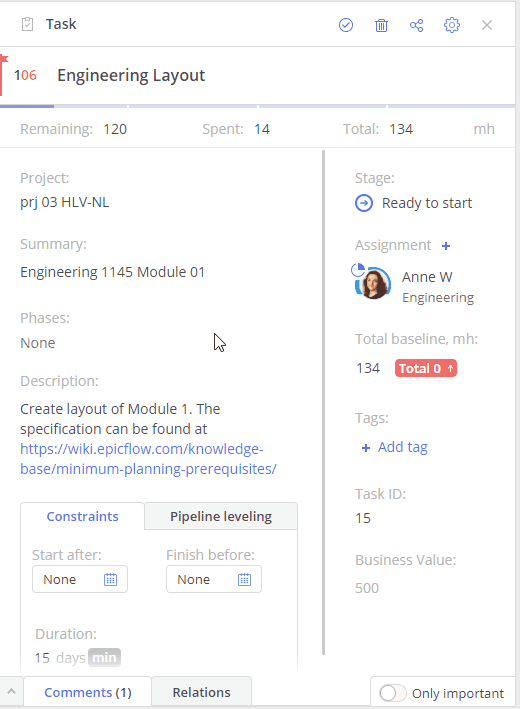 Screen #14 – Task Card – Auto depletions for assignment
Comments
Comments is an additional functionality for sharing crucial information directly in Epicflow among all concerned people.
With appropriate set of rights each user can add, remove or edit comment but only personal comments can be removed or edited.
If you would like to add new line during typing shift-enter combination can be used for that. Pressing enter button will add comment to the task itself.
Among all comments user can define an important one by lighting up star icon which appears to the right from the comment on hovering over such.
In a similar way, hovering mouse cursor over the task, you can select option "edit" or "delete" the task itself.
Selecting toggle "Only important " will hide all not-important comments.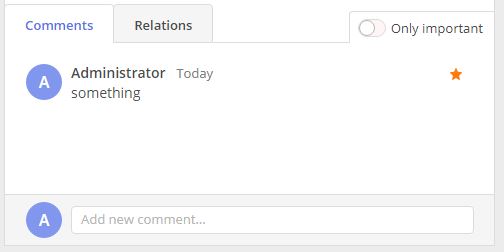 Screen #15 – Task Card – Comments
Please note that the last added comment to the task marked as important will be shown in the "Comments" section of the "Task List" page. In case if there no marked comments as important one, the last added will be selected to be displayed.

Screen #16 – Task List – Comments
View Configuration
For keeping focus over crucial parameters of the task, user is allowed to select those which are required currently to be displayed in the Task Card. For that icon "Gear" must be used.
Selection of the "Default" option allows to get back to the standard representation whenever it's required.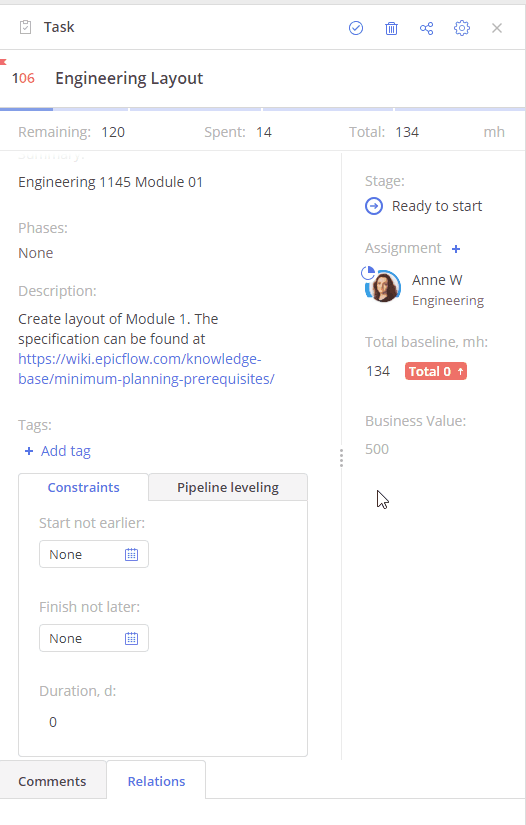 Screen #17 – Task Card- Columns Configuration
Navigation
Task Card be opened in several different modules of the system, so to simplify navigation Epicflow highlights selected item. Also you can easily navigate to the item on click over the opened Task Card's header.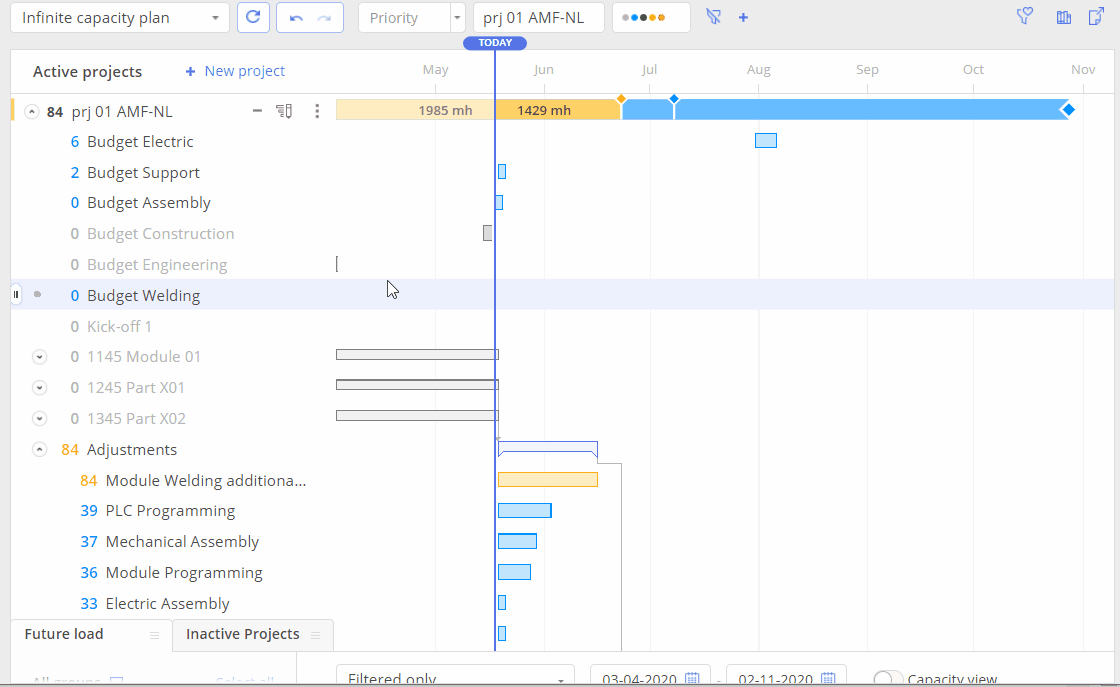 Screen #18 – Task Card – Navigation